Past Events:
---
Berkeley Mayor Jesse Arreguin Speaks Up For Animals
October 5, 2017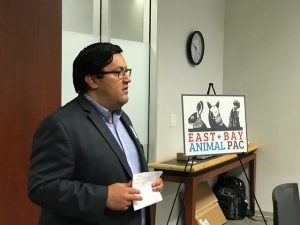 Thank you to Berkeley Mayor Jesse Arreguin, who continues to lead the fight for animal welfare in this region. He spoke personally about why he fought to ban the declawing of cats and dogs, as well as the primate guardian issue, the prohibition of discriminating against renters with pets or guide dogs, the ban on animal testing, the plastic straw ban and this week's ban on live animal giveaways.
Join our mailing list to learn about upcoming events, and thank you for supporting our work.
---
Meet Our Attorney for the Animals
July 3, 2017
You're invited to this special event that we're so honored to have as our guest speaker Alameda County District Attorney Nancy O'Malley.
District Attorney O'Malley has built a career speaking for the invisible and the exploited, and at our inaugural meeting she will be discussing the role of the District Attorney's office in protecting Alameda County animal residents, including:
the task force between animal shelter providers and law enforcement to create protocols for more appropriately responding to animal abuse
the decades-long research that confirms the links between animal abuse and domestic violence
the training being done around the county to bring awareness to this cycle of violence
the roles animals play in helping to heal victims of sexual abuse
We're so looking forward to seeing you! Please RSVP, then share this invitation with everyone! SNACKS AND DRINKS WILL BE SERVED.